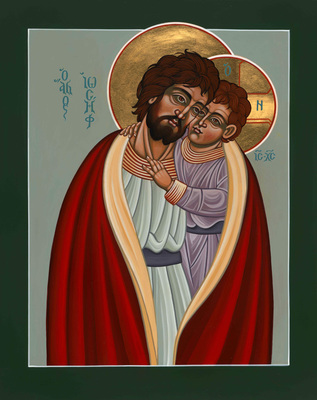 "Go to Joseph; what he says to you, do."
Genesis 41:55
"....it was permitted by God that Joseph have this anxious feeling constantly present within his heart. Joseph accepted it with resignation and never appeared outwardly to be restless or disturbed. "
Page 202
The Life of St Joseph
by Maria Baij, OSB
1743-1766
"I only beg, for the love of God, that anyone who does not believe me will put what I say to the test, and he will see by experience what great advantages come from his commending himself to this glorious patriarch and having devotion to him. Those who practice prayer should have a special affection for him always. I do not know how anyone can think of the Queen of Angels, during the time that she suffered so much with the Child Jesus, without giving thanks to Saint Joseph for the way he helped them. If anyone cannot find a master to teach him how to pray, let him take this glorious saint as his master and he will not go astray."
Autobiography of St Teresa of Avila, chapter 6
I asked my dear childhood friend Kathy Hendricks, the popular speaker, retreat leader and author of many truly inspiring books, including our book together,
"Heavenly Friends: An Introduction to the Beauty of Icons" http://www.twentythirdpublications.com/hefrneintobe.html to write a prayer to St Joseph for his feastday (traditionally honoring the day he died with Mary and Jesus by his side) March 19th. Here is her beautiful prayer:
Prayer to St. Joseph during Times of Fear and Anxiety
Dearest Saint Joseph,
You protected Mary and Jesus when violence overtook
the land.
Pray for all of those most at risk during this pandemic –
the elderly, those with underlying health issues,
the poor, the homeless, and those with no one to care for or about them.
May your example of courage and strength inspire us
to be more cognizant of the common good
and generous in our outreach to others.
You attended to the needs of your family
and remained steadfast in your faith.
Pray for all of those who are responding so generously
in providing for the physical, emotional, and spiritual needs
of the local, national, and international community.
May your model of fidelity fill us with the desire
to spread kindness,
consideration,
hope,
and compassion
during this challenging time.
We ask your intercession
so that we might draw together as a human family,
ever aware of and grateful for
the unending love and mercy of God.
Amen.