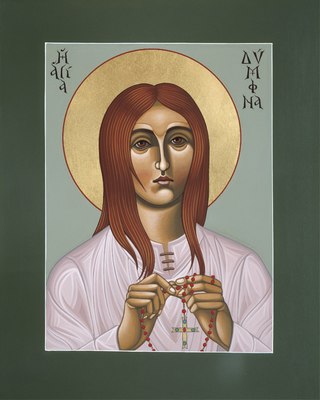 Holy Martyr St Dymphna of Ireland, for her feast day May 15
Written by my friend, Kathy Hendricks, a mother, grandmother, and author of several books on catechesis, spirituality, and family including "Heavenly Friends – An Introduction to the Beauty of Icons". http://www.twentythirdpublications.com/hefrneintobe.html
Saint Dymphna
When my mother first showed me her medal of Saint Dymphna and told me about this patron of mental illness, I had no idea what a consolation it was to her. Decades later, as a general understanding and recognition of the vast complexity of mental illness have taken place, I've come to a better appreciation of why this was so. Although my mother never mentioned the specific causes of two of her sisters' mental torments – one who committed suicide and another who became submerged in alcohol addiction – I have a better understanding of the devastating impact of clinical depression.
Dymphna's story is not an easy one to hear. The daughter of a pagan king and Christian mother, she secretly became a Christian at young age. Her mother's death threw her father into a state of severe grief. After searching in vain for a woman to replace his wife in beauty and temperament, he set his sights on marrying his daughter in whom he saw the resemblance he so missed in his dead wife. In order to escape such a horrifying prospect, fifteen-year-old Dymphna fled her native Ireland with her trusted confessor, a priest named Gerebran. They made their way to Belgium where Dymphna, as part of her passionate love for and commitment to her faith, built a hospital to serve the sick and the poor. Her father soon tracked her down and ordered the murder of Gerebran. After failing to convince Dymphna to return to Ireland and become his wife, he flew into a rage and beheaded her with a stroke of his sword. After he left, the residents collected the remains of both Dymphna and Gerebran and buried them in a nearby cave. The gravesite, upon which a church was eventually built, became a place of healing for those suffering from nervous, mental, and spiritual afflictions. While she herself did not suffer from a form of mental illness, her father certainly did. The experience of attempted incest and brutal murder by her father caused Dymphna to be named the patron of those suffering from mental illness. One might say she is also patron of those affected by those with mental illness.
As the onset of the Covid-19 pandemic continues to play out across the world, the United Nations is predicting a global mental health crisis due to "isolation, fear, uncertainty, and economic turmoil." This is being felt among health care providers and other essential workers as they cope with stress, anxiety, exhaustion, and grief. The rising number of deaths as well as the resultant aftereffects of the virus are taking a toll on those who have fallen ill as well as those caring for them. Domestic violence is on the rise as well as substance abuse. It's a grim picture.
My mother mostly shielded us from the anguish she no doubt felt as she watched her sisters suffering from depression and the self-destructive behavior that altered both of their lives. I can imagine, however, that she often turned to Saint Dymphna for prayers on their behalf. Mental illness has many forms and takes its tolls in varying degrees on those tormented by depression, obsessions, and deep-seated grief. It also affects their loved ones who stand helpless in the face of such suffering. One can only imagine the anguish Dymphna felt as she watched her father deteriorate into a state of unhinged obsession and violence. It is an extreme example of mental illness, to be sure, but one that points to the consolation found by turning in prayer to one who suffered at the hand of her own father. As we all weather this current storm, perhaps we can be a source of strength and support for those in need of mental and spiritual healing as well as those who care for and about them.
Prayer for Those Suffering Mental Illness
Loving God,
You alone know the depth of suffering among those with mental or spiritual illness.
Bring them comfort, consolation, and peace as they struggle with inner demons that torment the mind and heart.
Be with those who care for them. Give them strength, courage, and hope, especially when they feel most helpless and forlorn.
May the prayers of Saint Dymphna on behalf of all who suffer bring forth a compassionate and intensified response to the problem of mental illness in our world.
With all faith in your merciful grace, we pray.
Amen.