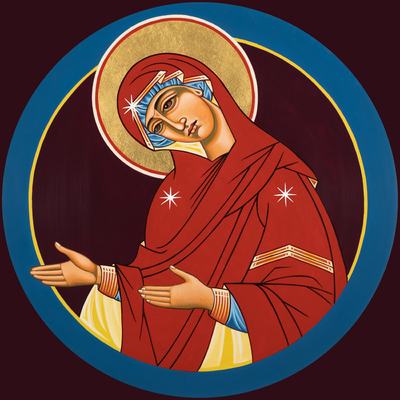 Our Lady of Sorrows and The Triumph of the Cross
- by Nicola Maddox
My only child, my son, Todd, died in a one-car accident on August 27th of that year. He was almost 19 years old and was heading off to begin college. On the morning of September 14th, just 18 days later, I was still reeling from knowing I would never again hold him, hear him, see him, feel him, enjoy his sense of humor, or talk with him. The only place I found any peace was at church, in the presence of Jesus, our Lord, and especially when I could receive Him in the Eucharist at Mass and take some comfort in Him. He was with me, physically inside of me, holding me up through this unimaginable pain and undeniable truth. Every day I sought out that experience at Mass. It is what fed me and sustained me for those days and then daily for the next 3 years. The Eucharist – Jesus - was my lifeline.
That particular morning, I awakened and realized I didn't have a car so I couldn't go to Mass. The day before it had broken down, and I had to take it in for service. It wasn't supposed to be ready for a couple of days. My immediate thought was that I would miss Mass. Then I realized I could walk to church. Walk in Houston in late summer? Was I crazy? People rarely walked anywhere in Houston with its unforgiving heat and humidity. But I knew there was a church only about a mile and a half from my home. I could definitely walk there and back. So, I checked out the Mass times and planned my adventure.
I arrived about 10 minutes before Mass started and put myself in God's hands. Since it was a weekday, we were in a small chapel and it wasn't very crowded. This is not a church I went to often, but the location was perfect on that day – and God knew exactly what he was doing orchestrating my car troubles. He had a plan just for me. It was the feast of the Triumph of the Cross and the priest gave a homily that was written just for me. He didn't know it, and neither did I, but God did. This is the gist of what he said:
"Today's feast is not just about the Triumph of the Cross, but it is tied directly to tomorrow's feast which is Our Lady of Sorrows. The two go together – always. One doesn't happen without the other. Of all the people in the entire universe who had the right to be angry at God, Mary had that right. She had done everything God had ever asked of her – absolutely everything. She surrendered her life, her will and her very existence to Him. She had never done anything wrong, and now He was asking her again to stand at the foot of the cross and watch her beloved Son be crucified after being tortured and unjustly sentenced to death. Our Blessed Mother had every right to shake her fist at the sky and yell at God the Father for asking even more of her and of their Son. This was not fair – again. Of all people, she had the right to scream her frustration, hurt and anger at the God of the Universe. But she did not. Again, she just repeated her Magnificat – 'I am the handmaid of the Lord. Let it be done unto me as You will. I will love our Son forever and nothing will take me from His side, no matter how painful, no matter how wrong. I am in this for the long haul.'
The Triumph of the Cross was first that Jesus surrendered to the will of the Father and died so we could have eternal life, but secondly that His Mother, Mary, did the same. Then it becomes about each and every one of us who join in Jesus' Triumph when we, too, choose to accept and Triumph in our own crosses, our own sorrows. Our Lady of Sorrows had so very many deep wounds, deeper than most of us can ever feel or imagine. Yet, she knew that her surrender was also her own Triumph of the Cross, it was her way of sharing in the pain and anguish of her Son, as only a parent could."
Obviously, I cried through the entire sermon and was glad I hadn't forgotten my small packet of Kleenex. I knew being in that place at exactly that time was ordained by God. It was God's way of gifting me with a deeper understanding and peace as I became more and more able to accept His will for my son and for me. I could not understand it, but I could trust in Him and add my surrender to that of Jesus and of Mary, Our Lady of Sorrows, my personal role model from that day forward. She has shown me the way, with the grace of God and the beauty of the Eucharist. If Mary didn't shake her fist at God in anger, neither would I.
I am grateful to that priest, to Mary and to her Son, to the Father and to the Holy Spirit for showing me the way – and to my own son, my Todd, from whom I have learned so much, even after his death.