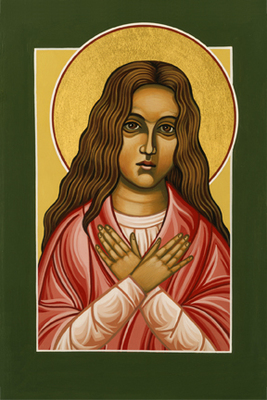 St Maria Goretti : Patroness of Abused Children (1890 - 6 July 1902)
"We are not to make of the work of Acts of the Apostles such an object of veneration that we take small account of this on going story; how God continues to write large the lives and deaths of our saints today. The great momentous acts of hope against hope, of love against hatred."
from his book "Whereon to Stand : The Acts of the Apostles and Ourselves" 1991
Daniel Berrigan, SJ (9 May 1921 - 30 April 2016)
Alessandro Serenelli was in prison nine years for the attempted rape and murder of the 11 year old child, Maria Goretti ... before Maria came to him in a dream. She was gathering flowers and she gave him, one by one, fourteen flowers; one for each stab wound she had received. I learned this while painting/writing, her icon, and later from the film "St Maria Goretti : Fourteen Flowers of Pardon."
When my niece Carry was going to be Confirmed in 1996, she asked me to be her sponsor. I was so touched and excited about what name (of a saint) she was going to choose. I admit to shuddering when she told me, Maria Goretti. When I asked her why Maria, she said, "Because she forgave." I was very impressed by the depth of her understanding of Maria and decided to paint a very small ( 5" x 7") icon for her as a gift.
In my theology years in Cambridge, Massachusetts, we were allowed to take courses at three other schools beside the Jesuit Weston School of Theology. I had heard that James Fowler was teaching a course at Harvard called "stages of faith" in preparation for the book he published, by the same name, in 1981. Since we are all at different stages in our growth in faith, the course was very enlightening, and to this day, I use it to understand where I am and to understand others too. I remember James telling us that people die at all different stages, including the saints. I'd like to go deeper into his theories but I think it's best to let you read the book for yourselves if you're interested. Basically we have very young saints like Maria, Francisco and Jacinta Marto, and the early child martyrs like Agnes, Tarcisius, Pancratius...Emmerentiana. And then we have saints and holy people like Thomas Aquinas, Bonaventure, Mother Teresa, Sr Dianna Ortiz, Dorothy Day, Sr Dorothy Stang, Thomas Merton, Sr Thea Bowman... all who lived longer lives. If you're often perplexed by "us adults" who often seem to be stuck or adamantly self-righteous, I'll just offer that today, with all the theological disagreements and outright battles, it's helpful to know Fowler's compassionate insights from his book.
The saints are like New Testament prophets and their "Acts" are the continuation of a book that will only close with the return of the Lord as Christ the King; a feast we celebrate, usually in late November, as the end of the Liturgical Year.
I don't have to remind anyone of the recent deaths of children from Sandy Hook to Uvalde, just to name 2. As I mentioned in my blog on Daniel Berrigan, he was often bewailing what he called "the war on children." By this he meant deaths from wars, starvation, the unborn, sex trafficking, and all other kinds of abuse. He was frequently accused, as all prophets are, of having something to offend everyone.
Maria Goretti surfaces over and over in the culture as a stumbling block and witness. In 1996 Kathleen Norris reopened Maria's story for another generation in her beautiful book "The Cloister Walk." She connects Maria to a contemporary murder where a young girl says to her killer, "...there are some things worth dying for." I think here of the horrifically tragic film "The Lovely Bones;" a film I sometimes wish I'd never seen, but ... I'm such a big fan of Saoirse Ronan, that I decided to watch it. But honestly I don't suggest seeing it. If you have a vivid, empathetic imagination, it's just too traumatic.
Maria is the prematurely "old child" bearing heavy responsibilities because of the death of her father and the family's subsequent poverty.
Maria is the "radiant child." Her Mother, who lived to see her canonized, said she would have been a saint anyway, had she not been murdered. She carried herself with a dignity beyond her years, and radiated the light of holiness which always attracts good and evil.
Maria is the "abused child" determined to protect herself while being worn down, stalked, and continually threatened by Alessandro.
Finally Maria is the mature "Christ figure" forgiving the unforgivable from her hospital death bed; a sign and symbol of the Flowering Cross.
I'll never forget years ago, seeing a powerfully visual symbol of the universality of the Catholic Church. I saw a photo in Maryknoll Magazine of a procession in a village church in Africa dedicated to Maria. The villagers were carrying a banner of this 11 year old white child because in heaven and on earth, she is their (our) sister too.
"Then I saw the Lamb who appeared to have been slain, standing in the center of the throne, encircled by the four living creatures and the elders...and they sang a new song : You are worthy to take the scroll and open it's seals, because You were slain, and You purchased people for God from every tribe and language and people and nation."
Revelation chapter 5
Fr William Hart McNichols 💮 in the beginning of July; the month dedicated to the Precious Blood of Jesus.