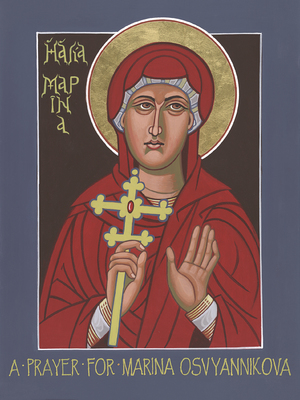 St Marina (Margaret) the Great Martyr: A Prayer For Marina Osvyannikova
(For my 43rd Anniversary of Ordination : 25 May 1979)
"Meanwhile, Saul was uttering threats with every breath and was eager to kill the Lord's followers...he wanted to bring them - both men and women - back to Jerusalem in chains. As he was approaching Damascus on this mission, a light from Heaven suddenly shone down around him. He fell to the ground and heard a voice saying to him, 'Saul, Saul ! Why are you persecuting me?' 'Who are you, lord?' Saul asked. And the voice replied, 'I am Jesus, the one you are persecuting! Now get up and go into the city, and you will be told what you must
do.'"
The Acts of the Apostles 9: 1-3
How many saints, or heroic leaders in the world can you think of who have had a dramatic conversion or have been struck by "heavenly lightning," with a clear mission? I can name so many, St Genisius, St Edith Stein, St Ignatius Loyola, St Francis of Assisi, but one that comes to mind, concerning St Margaret, is 19 year old St Joan of Arc whom we celebrate every May 30th. She was only 14 when St Michael the Archangel appeared to her, followed later by St Catherine of Alexandria and St Margaret of Antioch, born c.289 Antioch of Pisidia, died c.304 age 15.
"Margaret, known as Margaret of Antioch (July 20) in the West, and St Marina the Great Martyr (July 17) in the East...was reputed to have promised very powerful indulgences to those who read her life, or invoked her intercession; these no doubt helped the spread of her cultus. Margaret is one of the "Fourteen Holy Helpers, and is one of the saints Joan of Arc claimed to have spoken with." from Wikipedia
Most people saw the news when that spiritual lightening hit Marina Osvyannikova as she dramatically held up a hand made sign on Russian television. She was a news anchor and producer spewing lies about Ukraine and finally could not live with herself any longer. Actually, she had planned to carry the sign to Red Square but her 17 year old son, grabbed her car keys and locked her in her room. So she ran onto the set of Vermya, the most watched Russian news and held up the sign : "No war, stop the war, don't believe the propaganda, they are lying to you here." She was interrogated and detained for 14 hours, saying later, "I'm ashamed that I allowed myself to tell lies from the television screen. Ashamed that I allowed Russians to be turned into zombies. We just silently watched this inhumane regime. The next 10 generations won't be able to clean themselves from the shame of this fratricidal war."
People who risk everything to tell a truth inspire us all, usually what they do only makes sense after their deaths, then it's finally safe to applaud them... "What sorrow awaits you ! For you build monuments for the prophets your own ancestors killed long ago." (Luke 11:47)
I remembered seeing a beautiful 16th century icon of St Marina the Great Martyr in a book I have of Bulgarian Icons. So I brought it out of my collection of icon books. Why Marina and not a hundred other brave murdered Russians or Ukrainians ? President Zelensky (and other leaders) have openly thanked her, but I waited for a few days to be sure my impulse was "holy-inspired." I felt deeply I needed to pray for Marina and her family's safety as well as honoring her courage. I'm not sure why certain people hit me hard enough to want to paint something of or for them. For instance, why did I paint an image of Elijah McClain and not the obvious choice, George Floyd ? Most of the time, the reason reveals itself to me afterwards. It's the same with the image of Matthew Shepard and the icon I painted (The Seraphic Guardian of the Spilled Blood) to honor the violent murder of Allen R. Schindler, Jr, and anyone, boy or girl, man or woman, who is innocent and whose "...Blood cries unto Me from the ground." (Genesis 4:10)
St Margaret (Marina) promised she would hear our cries, and this icon is my way of crying to her. Often I feel helpless to touch the deepest tragedies in our world. I know you will join me in this prayer for Marina, but most of all, it's a way of praying for all of Ukraine and Russia, as the blood of Russian dissidents and thousands of Ukrainians cries to God from the ground. And the blood of the recent victims of the shooting massacre in Buffalo, New York...
"Must then a Christ perish in torment in every age to save those that have no imagination?"
From the play "St Joan" by George Bernard Shaw, published 28 December 1923, three years after St Joan was formally canonized.
Fr William Hart McNichols 💮 25 May 2022
Rare opportunity, this original is available for sale. The icon is 12" x 16" framed for $4000. Please PM us if you are interested.