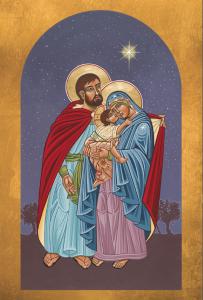 The Holy Family
from "Image to Insight" book
by John D. Dadosky
This icon was commissioned by the Holy
Family Hospital of Bethlehem Foundation
(Washington, D.C.) for the hospital by the
same name in Bethlehem, Israel, funded by the
Knights of Malta. As of this writing, their website
purports to have delivered sixty thousand
Muslim, Jewish, and Christian babies since 1990.
The hospital does not refuse patients and particularly
serves the Palestinian refugee community.
Patients pay only what they can afford. Located
near the place where Christians believe that Jesus
was born, the hospital embodies a sign of hope,
commemorating not only hope for new life in the
birth of a child but for the peace that is the fruit
of Christ's reign—a peace for all peoples, especially
between the three religions that share the
same sacred geography.
Much of the inspiration concerning this icon
surrounds the figure of St. Joseph. Leading up
to its creation, Bill had been reading the eighteenth-
century mystic Maria Baij's Life of St.
Joseph as well as a spiritual reflection titled Joseph:
The Shadow of the Father by the former chaplain of
Lourdes, Fr. Andrew Doze.
Private revelations in the Church do not have
an official status; any authority they have is mystical
and personal rather than doctrinal. However,
in Baij's account, Bill found a welcome humanization
of Joseph, a saint we know relatively little
about. Her mystical account of his life makes it
easy to identify with him, as when she states, "It
was permitted by God that Joseph have this anxious
feeling constantly present within his heart.
Joseph accepted it with resignation and never
appeared outwardly to be restless or disturbed."1
This passage reflects St. Joseph's sense of responsibility
and his human insecurities at the responsibilities
that he was given.
Bill became further enthralled with the spirituality
of St. Joseph when he read the spiritual
theology Joseph: Shadow of the Father. Therein
Doze describes his unique vocation as follows:
Joseph disappears at the same time as Mary
and Jesus or, rather, Jesus and Mary disappear
thanks to him. He keeps in the background
and conceals at the same time. He is hidden
and he hides. His name is the present participle
of the Hebrew verb meaning "to increase"
and "to cut off." Jesus will "increase" in
Joseph's safe keeping, he will increase astonishingly
. . . meaning "to increase," "to cause
to grow." But truly, what first strikes us about
Joseph is a certain way of "cutting back," of
taking away. He takes away the Incarnation
from our view. Bossuet expressed this magnificently:
"The apostles are lights to show Jesus
Christ to the world; Joseph is a veil to cover
him and, behind this veil, are hidden Mary's
virginity and the greatness of the Saviour of
souls."
To hide, to cover, to take away, by removing
this child entrusted to him by the Father
from a hostile or immature world; that is the
first strong impression the gospel makes on us
when we are searching for Joseph there.
Image to Insight book available at Tattered Cover in Denver and Amazon online.