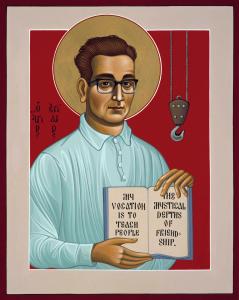 "Egide Van Broeckhoven was the young worker-priest whose tragic death in Brussels on December 28, 1967, shocked the public. Those who knew him were aware that his work in the factory and his brutal death on the job were nothing else but the conclusion of a passionate quest for God. His life in a poor working-class neighborhood and factory always revealed his lively and friendly spirit : his joviality, his good humor and a genuine love of God and prayer beneath his rough manners and non-conformism.
The "spiritual diary" of Father Van Broeckhoven contained in this book, carefully edited from twenty-six handwritten notebooks he kept during his ten years of factory life, reveals his deep and unceasing search for God through friendship with everyone he knew. They show his lights, his desires, his most profound experiences, all based on God, as the beginning and the end of his life. The diary is at once deep and very simple. It is not sterile introspection or self-complacency. Father Van Broeckhoven was always interested in 'what God is doing in me.'
The basic intuition of the book is indicated on the entry of March 31, 1961 :
'My vocation is to teach men ( people ) the mystical depths of friendship,' and it's content is sketched out in the entry of December 29, 1963:
'Book about friendship : lived experiences, not a philosophical treatise but transparent experiences where each man can recognize his own experiences and see them clearly there until he finds God in them.'
These spiritual notes teem with insights into every aspect of Christian life and contain a living testimony to the richness and value of friendship for our times."

From the inside cover of the book :
A Friend To All Men : Diary Of A Worker Priest by
Egide Van Broeckhoven, SJ
Dimensions Books 1977

I had so many ideas for a New Year icon and message and the through the "Gentle Guiding Hand of Providence" I happened to be meeting Fr Richard Rohr, OFM for lunch today. I wanted to give him Egide's diary as a New Years gift and he brought me the gift of his new book "The Divine Dance." It turns out the Spirit was moving us both, and I believe us All, in the positive direction of embodying the love we believe is needed in 2017. Richard told me a story I'd never heard about St Andrei Rublev's icon of the Trinity; often called "the icon of icons." Richard said that they found out that the rectangle in the middle of the table/altar where the Trinity sits, had residues of glue on that very spot. This led to the thought that someone might have had a mirror glued right there so that as you look into the Trinity of love, you too are present.
I'm sure Richard explains it better in his new book but I did not want to leave 2016 without telling you that .... in the midst of the heart of the most beautiful icon of the Trinity ever created by human hands, imagine a mirror, and see your image within that Circle of Love. And last of all I leave you with one of my favorite sayings, which actually hangs next to my bathroom mirror:
"What a privilege we have been given by God to be able to spend our lives giving his love away."
Don Lessin

Fr Bill McNichols
December 30 2016
and....Happy New Year 2017!