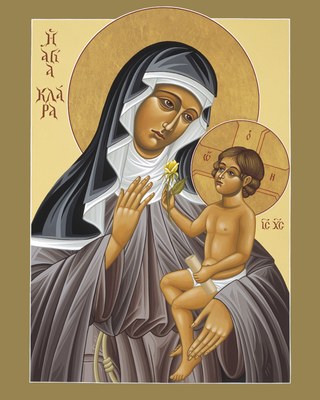 St Clare's Apparition of the Holy Child ( "Chiara Offreduccio" - 16 July 1194 - 11 August 1253)
"Then the dying saint communed with her own soul, saying softly:
'Go forth in peace, go forth without fear to Him who created you and has sanctified you and protected you and has always loved you and cared for you.' Then speaking with her Lord, she said: 'Blessed be you, O Lord, you have created me and have redeemed me with Your Precious Blood, to give me eternal life in your presence.'
The sister who was nearest to her, said weeping: 'What are you saying, my Mother? To whom are you speaking?' She answered: 'I am talking to my own soul.'"
"The Life of St Clare of Assisi" by the Servant of God Tommaso da Celano (1185-1260)
"Learning to pray in a Franciscan way required of her a great renunciation: it cost her a lot to distance herself from her drive to activity and success in action and to become a contemplative. Work for it's own sake was much more demanded of her than of Francis, because she had to renounce what was the primary feature of her character: her reasonableness, which she possessed and rightly possessed, and the facility for helping and serving. It is more difficult to renounce something that is good and beneficial than something problematic...However, she allows herself to be fashioned into what God wants to make of her."
"Book of All Saints" by Adrienne von Speyr
"Humility is the guardian and the ornament of all virtues..."
Second Life of St Francis by Tommaso da Celano, #140
St Clare was given 3 apparitions of the Christ Child. She prayed the Office of the Passion of Jesus every day. I wondered then, why it was not the adult Christ but the Child who came to her?
I decided to explore this question as I painted (wrote) my first of three, icons of her.
My life in Brooklyn and Manhattan, from 1980-1990 brought me so many incredible graces and was filled with people I loved deeply and, some are still alive. One of those is Fr Andre' Cirino, OFM who taught me more by word and by deed than I can ever adequately express and ultimately accepted me into the Third Order of St Francis on 3 October 1984, up in the Bronx house of the Third Order, the Little Portion, (Porziuncola meaning in Italian, "small portion of land") the place in Assisi where the Franciscan movement began. During my Hospice years in Manhattan, I also discovered the most beautiful book of an ancient Chinese text of mystical union, entitled, "The Secret of the Golden Flower." In the Convento of San Damiano, the place where Clare and her sisters lived, there is always a rose on the table where Clare was seated during her life. The one time I visited Assisi and San Damiano, in March 1984, the rose was yellow. I later wrote this poem:
The Secret of the Golden Flower
Chiara
a play of light
golden as the
rising sun
over Assisi,
played out
over fifty years
of agonizing sickness
after sickness
and vicious onslaughts
of the evil one.
She taught her
dearly loved sisters,
in O, a thousand ways,
the adoration and praises
of the Most High,
the passionate cultivation
of the Enclosed Garden...
Jesus,
and a swift attention
to the tremulous stirring
of the Spirit's wings.
Once while listening
to a sermon of
Brother Philip,
she was seen
clear and bright
as day,
holding the Holy Child
enfolded in the
Secret of the Golden Flower.
Fr William Hart McNichols, SFO
10 August 2020 Eve of the feast of St Clare
PS) I have two, of many, wonderful grandnieces; one named Claire and another grandniece Ginger who is now attending the University of Santa Clara. This feastday reflection is for them, with love.